World News
30 NATO Soldiers, 52 Serbs Injured In Ethnic Clashes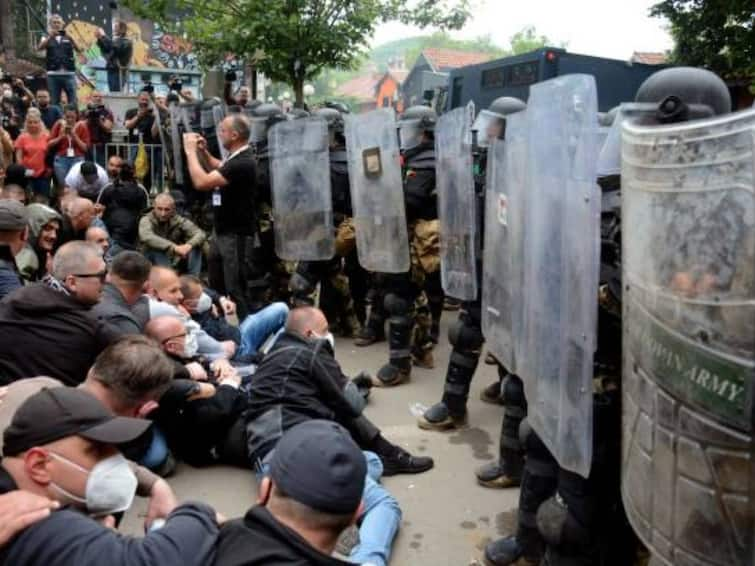 30 NATO Soldiers
The NATO-led international peacekeeping force in Kosovo (KFOR) on Tuesday said its 30 soldiers were injured in fierce clashes with ethnic Serbs, reported Reuters. Whereas Serbian President Aleksandar Vucic said that 52 Serbs were injured. The development comes after ethnic clashes between Serbs and Kosovo over the recently concluded mayoral polls did not go well with the former, Reuters stated.
According to the report, the Serbs had tried to take over the offices of one of the municipalities in northern Kosovo where ethnic Albanian mayors took up their posts last week.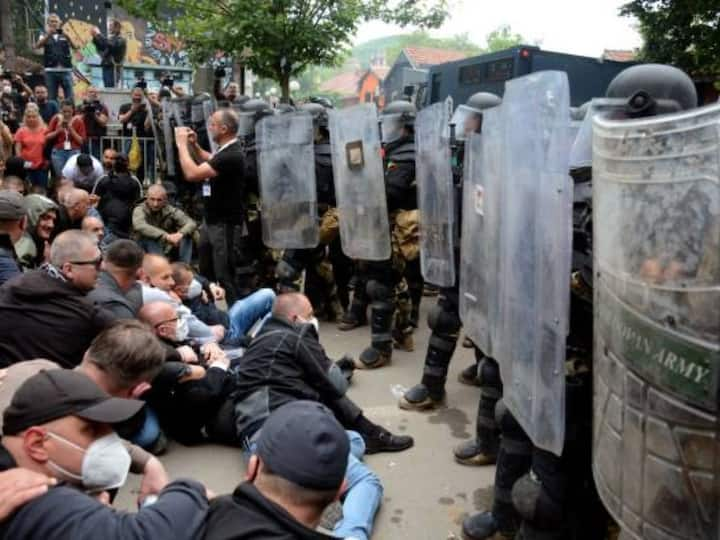 Why Are Serbs Angry With Municipal Polls In Kosovo?
Municipal elections were held in Kosov in April and Serbs refused to take part in it. As a result of their boycott, ethnic Albanian candidates won the mayoralties in four Serb-majority municipalities – including North Mitrovica, where no incidents were reported on Monday – with a 3.5 percent turnout, reported AP.
Tensions escalated after ethnic Albanian mayors took office in northern Kosovo's Serb-majority area after elections the Serbs boycotted. Subsequently, Serbs in northern Kosovo tried to block the elected ethnic Albanian officials from entering municipal buildings. Reacting to the agitation, Kosovo police fired tear gas to disperse the crowd and let the new officials into the offices. AP reported that Serbia put the country's military on high alert and sent more troops to the border with Kosovo.
Notably, as AP stated, ethnic Albanians make up more than 90 percent of the population in Kosovo as a whole. However, northern Serbs have long asked for the implementation of an EU-brokered 2013 deal for the creation of an association of autonomous municipalities in their area.
The 2008 Independence Of Kosovo
Kosovo declared its independence from Serbia in 2008 and 100 United Nations countries even recognized it.
According to Reuters, ethnic Serbs, who are the majority in Kosovo's north, have never accepted its 2008 declaration of independence from Serbia. They still see Belgrade as their capital more than two decades after the Kosovo Albanian uprising against Serbian rule.
NATO Force And Clashes
NATO recently released a statement saying that 11 Italian soldiers and 19 Hungarian ones "sustained multiple injuries, including fractures and burns from improvised explosive incendiary devices." It added that three Hungarian soldiers were "wounded by the use of firearms," but their injuries are not life-threatening.
The rebellion Serbs clashed with NATO troops in the municipality of Zvecan, 45 kilometers away from the capital, Pristina.
"Both parties need to take full responsibility for what happened and prevent any further escalation, rather than hide behind false narratives," said KFOR commander Maj.-Gen. Angelo Michele Ristuccia, as quoted by AP.
The report said that Serbian President Aleksandar Vucic spent the night with his troops on the border with Kosovo. They were placed on the highest state of alert on his orders last week. Vucic also said 52 Serbs were injured in the clashes, three seriously.
Kosovo police said four people were detained, AP said.
Amid an ongoing war between Russia and Ukraine, both the United States and the European Union have stepped up efforts to help solve the Kosovo-Serbia dispute, fearing further instability in Europe.
AP said that the EU has made it clear to both Serbia and Kosovo that they must normalize relations if they're to make any progress toward joining the bloc.
In the last month's election, ethnic Serbs in Zvecan, Leposavic, Zubin Potok, and Mitrovica, four municipalities in the north, Serbs boycotted almost all of them. Only ethnic Albanian or other smaller minority representatives were elected to the mayoral posts and assemblies.
A Look At History
The Serbia-Kosova conflict is not something new. The tussle in Kosovo erupted in 1998 when separatist ethnic Albanians rebelled against Serbia's rule, and Serbia responded with a brutal crackdown, AP said.
Then, About 13,000 people, mostly ethnic Albanians, died. NATO's military intervention in 1999 eventually forced Serbia to pull out of the territory. Washington and most EU countries have recognized Kosovo as an independent state, but Serbia, Russia, and China haven't.